One-type-fits-all hearing aids are a thing of the past. Today's hearing aids are dynamic in fit, style, size, shape and function. Different types of hearing aids offer wearers different features and benefits. Because the world of hearing aids has become so diverse, getting your hearing aids from a professional audiologist is vital to ensuring you're enjoying the full benefits of your devices.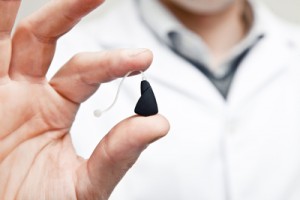 Along with being a top-notch audiology clinic, DeSoto Eye and Ear is a licensed dispenser of hearing aids and accessories, allowing our patients to get a complete range of hearing services within our modern specialty clinic. This means you can relax knowing you'll receive complete hearing services, all within our hearing and vision center. Once your hearing loss has been assessed and diagnosed, we'll help you choose the perfect treatment plan for your needs.
Benefits of Getting Hearing Aids at DeSoto Eye & Ear
Expert knowledge. Choosing the best hearing aid isn't as easy as selecting a product from a list. Only a professional hearing health specialist has the breadth and depth of knowledge to help you select your ideal pair of hearing devices. Our Doctor of Audiology is here to help you during every step of the hearing aid selection process.
Counseling services. For most people, adjusting to life with hearing aids doesn't happen overnight. Since the process of adapting to hearing aids can be challenging, counseling services are an important part of adapting to life with hearing devices. Our audiologist understands what you're going through and is here to help you learn about life with hearing aids and acclimate to your devices comfortably.
Careful fitting. Your new hearing aids will be custom fitted to your ear; however, adjustments are still necessary for optimal hearing device performance. If you purchase your hearing aids from DeSoto Eye and Ear, you can expect careful and continuous care throughout the entire fitting and follow up process.
Precise adjustments. As you adapt to life with hearing aids, you will need to adjust your devices occasionally in order to keep your hearing aids working their best. To keep up with maintenance and adjustments within the days, weeks, months and even years after you get hearing devices, you will need expert help from our audiologist.
Accessory assistance. Today's hearing aid technology is phenomenal and we now have the capability to pair your hearing devices with hearing aid accessories to be able to listen clearly in certain situations. Our audiologist will help you learn more about which accessories may pair well with your devices to improve your hearing in large groups, noisy restaurants, movie theaters and other challenging locations.