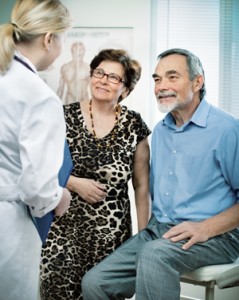 At DeSoto Eye & Ear's audiology center in Southaven, our work extends far beyond top-notch treatment plans and helpful hearing loss services. We strive to promote hearing health throughout the community by offering professional assessment, education and prevention services through our hearing conservation program.
This professional program aims to:
Equip employers and employees with important information
Determine and distribute proper hearing protection
Establish effective preventative policies and practices
The U.S. is experiencing a hearing loss epidemic; since the mid-1990s, the number of Americans with hearing loss has more than doubled. This sharp upturn in hearing impairments is largely attributed to noise-induced hearing loss (NIHL).
Hearing conservation programs combat NIHL, which currently affects 10 million Americans and accounts for 25% of all hearing impairments.
Workplace noise is one major contributor to NIHL, with an estimated 22 million Americans per year exposed to potentially damaging sound on the job. Every workplace that produces sound equal to or exceeding 85 decibels (dB) is required to provide employees with proper hearing protection and access to a Southaven hearing conservation program.
DeSoto Eye & Ear's Hearing Conservation Program
Our outstanding hearing conservation program was expertly designed and developed to be easy, efficient and effective for both employers and employees.
The service's most notable attributes and advantages include:
DeSoto's hearing conservation program strives to provide premier professional services that work within any business's budget. Our programs are flexible, adaptable and customizable, so you're sure to find an economical option that fits your company's current hearing care needs.
Providing proper hearing healthcare is important, but in many cases it's also the law. Federal rules and regulations require companies to provide ear protection and audiological care to employees if workplace noise can potentially exceed 85 dB. Our hearing conservation program offers a stress-free system that combines cutting-edge care with ongoing company compliance.
DeSoto Eye & Ear's hearing conservation program uses a three-pronged approach to combat occupational NIHL.
Workplace evaluation

Identify all potential sources of noise-induced hearing loss in a Southaven workplace
Reduce equipment decibel output levels wherever possible
Recommend and provide hearing protection for all employees

Hearing loss assessments

Perform initial evaluations on all employees exposed to dangerous decibel levels
Diagnose hearing loss and offer counseling services
Provide individualized prevention and treatment plans

Ongoing observation

Record, monitor and track employee hearing test results
Arrange annual workplace hearing tests
Schedule any follow up appointments necessary based on federal regulations and guidelines