Lyric hearing devices are one of the newest and most exciting advancements in hearing aid technology. They were first made available to the public in 2009.
Disposable, invisible Lyric hearing devices can be worn continuously for up to four months without ever needing to change the batteries.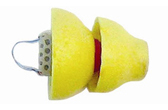 Regular hearing aids have to be removed throughout the day for sleeping, showering, exercising and other activities. They also require weekly battery changes. While these requirements aren't a problem for everyone, this can be a cumbersome routine for our active, busy patients. If this sounds like you, Lyric may be the answer you're looking for.
Lyric: What You Need to Know
Lyric hearing devices are implanted deep within the ear canal
This process is fast, simple, nonsurgical and painless
These hearing devices sit about 4 mm from your eardrum
Lyric devices are completely invisible to those around you
You can adjust the volume on Lyric devices using a magnet tool
Lyric devices last an average of 120 days and are disposed of after use
You can remove devices when their battery runs out using a removal tool
Lyric devices use the natural shape of the ear to reduce background noise and transmit high quality sound
Lyric's Benefits
Lyric devices are worn 24 hours a day, seven days a week
The devices themselves are tiny, measuring about 12 mm in length
Lyric devices only need replacing about three times per year
They use wireless programming and remotes to control settings and turn the devices on and off
Lyric won a Medical Design Excellence Award in 2009
The hearing aids can be worn when sleeping, exercising and showering
Their location deep in the ear canal provides highly localized sound with minimal feedback
94% of Lyric wearers say these devices are more comfortable than other hearing aids
86% of users report Lyric's sound quality as "very natural"
Lyric can use used by people with mild to moderately severe hearing loss
If you're one of the thousands of Americans who would benefit from using Lyric devices, talk to one of our Lyric professionals to find out more about these innovative devices.